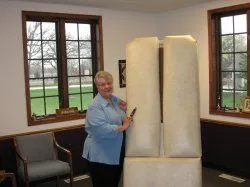 Hello and welcome.
As a Proficiency Rated Activator doctor for over 30 years, I am committed to making patient care my number one priority. In my practice, I treat people of all ages and gender from infants to our older adult population, providing individualized care that meets each patient's needs.
I specialize in using a chiropractic technique called Activator Methods Chiropractic Technique (AMCT). This technique has evolved from 35 years of clinical (case studies) and 10 years of research. The Activator Methods Chiropractic Technique uses the latest advances in orthopedic, neurological and chiropractic examinations to detect joint dysfunction (subluxations) in the spinal column and extremities for improved patient care. AMCT uses the Activator Adjusting Instrument to give a consistent, low force, high-speed chiropractic adjustment.
Having completed a comprehensive post-graduate program, I am presently a Proficiency Rated doctor in this technique and use it extensively in my practice.. Over 31,000 doctors have been trained in AMCT, making it one of the most widely used techniques worldwide and a testament to its safety and efficacy. For more information on the activator technique, you may go to the following web site:
www.activator.com
.
With post-graduate training in pediatric, geriatric care, and nutrition, this allows me to better meet the special needs and conditions of my patients.
Background on Dr. Martin
Education
Associate Degree, UW-Fond du Lac
B.S Degree, Logan College of Chiropractic
Doctorate of Chiropractic - Logan College of Chiropractic
Fellowship in Clinical Acupuncture - International Academy of Clinical Acupuncture
Memberships & Associations
Wisconsin Chiropractic Association
Advisory Board for Chiropractic Technicians Program at Moraine Park Technical College
FDL Women and Management
Soroptomist
Personal Statement
I grew up in Fond du Lac and graduated from Goodrich High School. My spouse, Richard, and I have been married for over 40 years and are blessed with four children and thirteen grandchildren. Before I attended Chiropractic College, I worked for a chiropractor for ten years as a chiropractic assistant. My duties at that office prepared me for the day-to-day aspects of running a chiropractic office from the front desk to the therapy department. Being a chiropractic assistant also put me in direct contact with all of the patients who were being treated for various conditions. When I saw the difference chiropractic care made in their conditions I knew that I, too, wanted to be a chiropractor. Then I could make a difference in people's lives by treating them, making them feel better and helping them to live an active, normal life.
"Think, act, and feel dynamic everyday"