Dr. Ryan D. Haus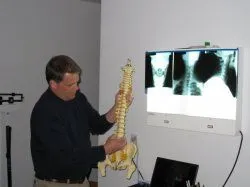 • Certified Chiropractic
Sports Physician

• Certified Strength &
Conditioning Specialist
"As a family practice chiropractor with specialties in sports medicine, fitness, and rehabilitation, I am determined to do everything I can to meet the health care needs of all patients. Using the latest advances in chiropractic care and the numerous others services I can provide, I can implement a specific individualized treatment plan that will allow patients of all ages to return to, or maintain their active healthy lifestyle. My approach to your care is one of a team concept so if I am unable to help you, I will immediately refer you to a doctor who can."

"Through honest and high-quality chiropractic care, we will help patients maximize their health today for improved quality of life tomorrow."

How Can Dr. Haus Help You?
As a Certified Chiropractic Sports Physician and Certified Strength and Conditioning Specialist, I combine chiropractic care with many other treatments to implement the right treatment plan for each patient. My background and education allows me to treat numerous conditions more than back and neck pain by providing treatments for headaches, carpal tunnel syndrome, shoulder pain, and hip, knee, and ankle pain. I also provide services for the healthy population in providing services for weight loss, general fitness, weight training programs, and performance enhancement programs for athletes. Treatment plans focus on achieving health by decreasing pain, improving joint function, improving flexibility and range of motion, and increasing strength and stabilization to prevent further pain or injuries. Patient education is also a key factor to continued health so we take the time to make sure each patient understands how he or she can improve his or her own health.
"Specializing in acute injuries such as sports injuries, auto accidents, and work injuries has given me great rewards in seeing patients get out of pain quickly and then rehabilitate to a full recovery."
With my specialty knowledge in the fields of sports medicine, I also provide programs for the healthy population. I have worked with many athletes, teams, and active individuals in designing exercise and fitness programs for improved sports performance, improved cardiovascular health, or weight loss.
"Exercise and fitness programs are an integral part of everyone's health and more and more people have gotten this message and begun to exercise regularly. It is my job to make sure that each individual gets the most out of their exercise by designing programs specific to the individual's needs and goals."

Background of Dr. Ryan D. Haus
"Having grown up in Fond du Lac, I am very excited to offer the people of this wonderful community the best health care treatment and wellness center in this area."
After graduating from Goodrich High School (now Fondy High) in 1989, Dr. Haus graduated from the University of Minnesota in 1993 and then from Northwestern College of Chiropractic in 1997. After graduating from chiropractic school, Dr. Haus worked in the Green Bay area as an associate doctor and then clinic director of the Oconto Chiropractic Clinic. In 1998, Dr. Haus earned a post-graduate certificate as a strength and conditioning specialist, and in 1999 he completed his post-graduate specialty work in chiropractic sports medicine. In May of 2000, Dr. Haus fulfilled a lifelong dream of returning to Fond du Lac and opened his own private practice. In January of 2001, Dr. Haus helped bring the Dynamic Chiropractic and Wellness Center to Fond du Lac.

Dr. Haus is a member of most all insurance plans and Preferred Provider Networks such as FABOH, Humana, MultiPlan/WPPN, CompCare Blue, Network Health Plan, BlueCross & BlueShield United of Wisconsin, United Healthcare, and HSM/WEA.

Dr. Haus, his wife, Robin, and their 4 children reside in Fond du Lac. Dr. Haus is active in the community serving on the Board of Directors for the Fond du Lac Wrestling Club and Fond du Lac Boys Baseball. Dr. Haus also coaches many youth sports. Dr. Ryan spends his free time watching and participating in many sports and outdoor activities.